Products
【Materials for the future】details
TOYAL DRY™
Packages that can absorb moisture and control humidity without a desiccant.
What is TOYAL DRY™?
It is a range of active packaging products lined with a sealant film that can absorb moisture or regulate humidity, ideal for packaging pharmaceuticals, electronic parts, and other materials that are susceptible to moisture damage.
Features
The sealant layer absorbs moisture or regulates humidity without a desiccant.
・We offer humidity-regulating types (RH 20-30%) and moisture-absorbing types (RH 0%).
・By varying compositions, it can be used for PTP containers, aluminum pouches, and non-adsorptive packaging materials.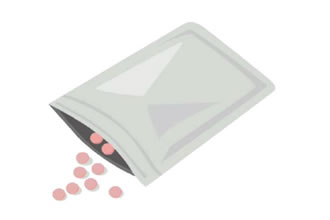 General Specifications
<Types of Moisture-Absorbing Sealant Film>
Product Type
Thickness
Absorption capacity
Humidity regulator (RH 30%)
40~80μm
3~15g/m

2

Humidity regulator (RH 20%)
40~60μm
3~9g/m

2

Moisture absorber (RH 0%)
40~60μm
1~3g/m

2

Super dry moisture absorber
60μm
6g/m

2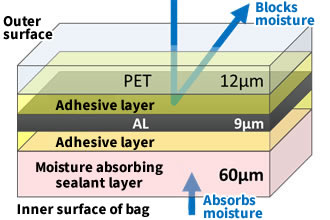 Moisture absorption performance
Sample: A4-size bag. Test space: 2.4L
Decrease in humidity from the initial RH (100% at 25˚C) was measured.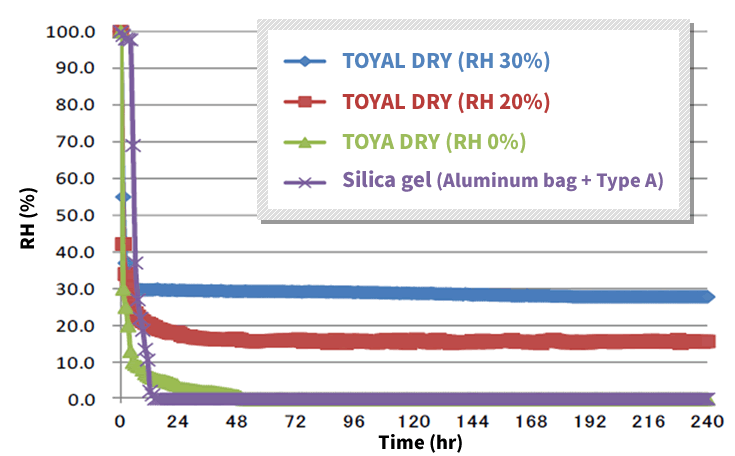 Back to "Products" top page