Company information
company information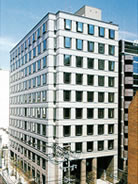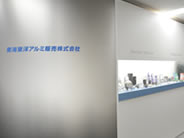 Company name

Toyo Tokai Aluminium Hanbai K.K.

Founded

April 1, 1966

Pain-in capital

330 million yen

CEO

Masahiro Aoki, President and Representative Director

Business locations

■Osaka Office
Honmachi Yamamoto Bldg. 5F,
4-1-10 Minami-Honmachi, Chuo-ku, Osaka-shi,
Osaka 541-0054
Phone: (+81)06-6245-1071 (switchboard) Fax: 06-6245-1329

■Tokyo Office
Osaki New City Bldg. No.3 13F, 1-6-3 Osaki, Shinagawa-ku, Tokyo, 141-0032
Phone: (+81)03-5759-1450 (switchboard) Fax: 03-5759-1041

■Singapore Office
10 Anson Road, International Plaza #25-13
Singapore 079903
Phone: (+65)65-6225-5148 Fax: 65-6225-5150

■Toyo Tokai Aluminium Hanbai(Shanghai) Corporation
Rm. 404, Far East International Plaza A-zone,
No.319 Xianxia Rd,Changning District,
Shanghai, China 200051
Phone: 86-21-6278-3200 Fax: 86-21-6278-3218

Business activities

Sales, processing, and trading of non-ferrous metals and products
Sales agent of Toyo Aluminium K.K.
Sales of aluminium-foil and plastic containers, paper products, and packaging materials
Sales of measuring instruments and other precision instruments, packaging equipment and tools, and their parts
Sales of electric/electronic/telecommunication devices and their parts
Sales of synthetic resins, industrial chemicals, oils and fats, foodstuff, food additives, fertilizers, feedstuff, construction materials, and petroleum products
Sales of gases and gas generating equipment
Any and all other businesses incidental or related to the above activities

Main products

・Materials for condensers
・Laminate materials
・Aluminium wires, various types of ingots
・Aluminium sheets
・Packaging materials for pharmaceuticals
・Packaging materials for dairy products
・Packaging materials for confectionery products
・Packaging materials for disposable heating pads, laminate tubes
・Various types of bags
・Heat resistant paper cups
・Aluminium foils, plastic containers
・Paper cases
・Products for business use
・Aluminium powder
・Powder of various metals
・Powder applied products
・Foodstuff

No. of employees

Approx. 70

Annual sales

22.5 billion yen (FY2017)

Account settlement day

March 31

Banks

・Sumitomo Mitsui Banking Corporation
・Bank of Yokohama

Affiliated companies

Toyo Aluminium K.K.

Nippon Light Metal Holdings Co., Ltd.

Toyo Aluminium Ekco Products

Major clients

・Panasonic Device Company
・Nichicon Corporation
・Japan Capacitor Industrial Co., Ltd.
・Kawatake Electronics Co., Ltd.
・Chuo Shoko Co., Ltd.
・Nomura Sangyo Co., Ltd.
・Fujifilm Corporation
・Meiji Co., Ltd.
・Megmilk Snow Brand Co., Ltd.
・Shin-Etsu Chemical Co., Ltd.
・Daiichi-Sankyo Propharma Co., Ltd.
・Morinaga & Co., Ltd.
・Nippon Restaurant Enterprise Co., Ltd.
・Nippon Flour Milling Inc.
・Nisshin Foods Inc.
・Hitachi AIC Inc.